At Décor-Arte Interiors we know there are several layers to 'styling'. You may want to have your home styled for sale. (See our pre- sale inspection section) You may want to re-use what you have but in a more efficient and stylish way, or you could want to completely re-style your home or office. We can assist with all of these requirements.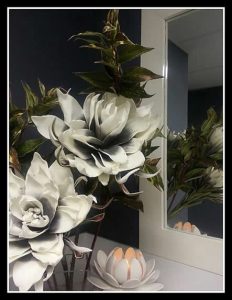 Sometimes re-arranging the contents of a room can make it work so much more efficiently. Often it is a matter of using what you have rather than buying something to create a new setting. Bringing the outdoors in with flowers and greenery is one easy way of freshening up a room. Of course, the ubiquitous 'de-cluttering' goes a long way towards creating a calming atmosphere in any area – something that is best done with an unbiased participant in the process. We understand it's hard to let go – we will be gentle.
On the other hand if you are ready for a complete change, we will be there to consult and guide you on your journey. We take into consideration your must haves and even more importantly – we take into account the things that you absolutely cannot tolerate, whether it be a certain colour or a style.